FREEDOM TO EXPRESS AND BE WHOLE IN OUR BODIES
FREE FROM PATRIARCHAL VIOLENCE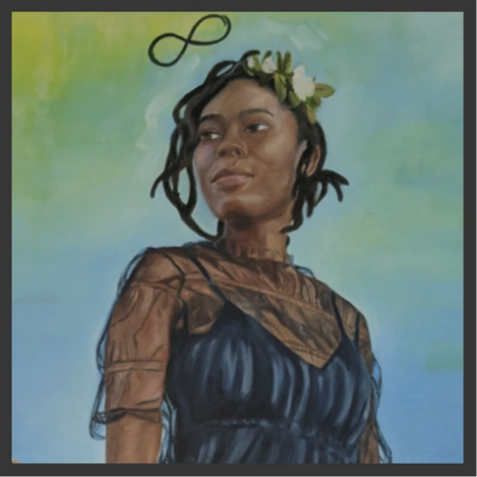 GIVE ME LIBERTY WITHOUT THE ENTICEMENT OF DEATH.
GIVE ME PEACE TO WEAR WHATEVER I WANT WITHOUT FEAR OF VIOLENCE, RIDICULE, OR CRITICISM.
DEATH ONLY DESTROYS THE BODY, AND MY BODY IS ME. THERE ARE NO SAFE SPACES— ONLY BRAVE PEOPLE.
ALLOW ME TO LIVE IN THE SPACE THAT FEELS RIGHT FOR ME.
WE DESERVE SAFETY, CARE, AND LOVE WITHOUT UTILIZING A NARRATIVE THAT DEMANDS US TO MINIMIZE WHAT'S BEST FOR OUR BODIES IN TERMS OF GENDER, MEDICALLY, SEXUALLY, AND SENSUALLY.
THEY DO NOT KNOW THE FIRST THING ABOUT GIRLS LIKE ME, BOIS LIKE THEM, BLACK BODIES LIKE US.
WE ARE DEM FOLKS WHO AIN'T LIKE NOBODY ELSE. WHOSE MOVES ARE COSMIC BLUEPRINTS THAT GLIDE AND DANCE WITH THE SEA. FULL HIPS, LIPS, AND BODIES.
WE DESERVE TO BE RECOGNIZED IN OUR FULLNESS AND GIVEN FLOWERS WHILE WE ARE
STILL HERE. WE ARE HUMAN BEINGS AND DESERVE AUTONOMY, WHICH MEANS TRANS-AFFIRMING MEDICAL CARE. NO GATEKEEPING. NO CONDONING BLACKNESS AS A RARE COMMODITY. NO KITCHEN TABLE CONVERSATION. NO BLAMING SURVIVORS FOR VIOLENCE THAT HAPPENED TO THEIR BODIES WITHOUT THEIR CONSENT.
WE DESERVE THE RIGHT TO BE WHOLE, FREE, AND SAFE IN OUR BODIES
RHYTHM OF REALITY (STRENGTH)
40X30"
OIL ON CANVAS
$2,000
LAKESHIA REID